He Got Game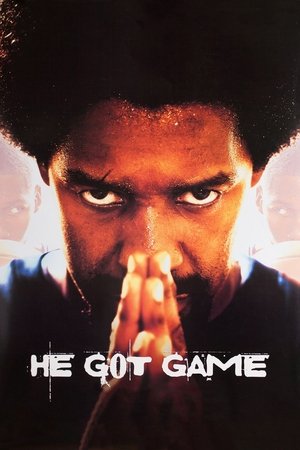 He Got Game
Overview
A basketball player's father must try to convince him to go to a college so he can get a shorter prison sentence.
Cast
Denzel Washington

Ray Allen
Rosario Dawson
Milla Jovovich
Hill Harper

Ned Beatty
Jim Brown
Joseph Lyle Taylor

Bill Nunn

Michele Shay
John Turturro

Shaquille O'Neal
Charles Barkley

Michael Jordan
Jill Kelly
Chasey Lain
Robin Roberts

Scottie Pippen

Reggie Miller

Bill Walton

Jennifer Esposito

Zelda Harris
Lonette McKee

Thomas Jefferson Byrd

Roger Guenveur Smith

Rick Fox
Leonard Roberts

Arthur J. Nascarella
Ron Cephas Jones
Al Palagonia

Heather Hunter
Crew

Ellen Kuras

Wynn Thomas

Spike Lee

Spike Lee

Spike Lee
Barry Alexander Brown
Tells the story of Jesus Shuttlesworth, the most sought after high school basketball prospect in the nation. Jesus and his dream to make it to the big ranks in professional basketball are overshadowed by his father, Jake, who is spending his life in prison for killing Jesus' mother.
He Got Game